Fridays. Freakin' love 'em.
Especially THIS one!
Why, you ask?
A couple of reasons...
Friday means spending time with my lover, of course.
Relaxin' and drinkin' a brew or two.
Amanda
is one of the coolest and
sweetest
bloggers I know.
She invited me to do a guest post on her blog, so go check it out!!!!
Like, now.
Right now.
Right, right now.
And to top this Friday off with a
bang
,
I just found out I'm the winner of an amazing giveaway at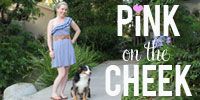 I won a holy boat load of prizes from some really awesome bloggers.
The prizes include:
+ tons of ad space on some
amazing
blogs
+ an Erin Condren Life Planner
+ $50 in Starbucks gift cards
+ a $25 Sephora gift card
+ a $10 Ulta gift card
+ a $20 Target gift card
+ a $20 American Eagle gift card
+ $10 store credit to the Not So Ordinary Shop on Etsy
+ 3 month Art with Love package
+ Essie nail polish
+ the "Sense & Sensibility" hard cover book
+ a blog PDF planner with blog header
+ jewelry
+ a complete blog design
Freakin' nuts! I can't believe it!
I want to say a huge thank you to all the fabulous ladies who participated in the giveaway
and of course, the lovely
Lauren
.
This is how I feel right about now...
Fantabulous Friday
, if you ask me. :)
Hope yours has been just as marvelous as mine!